FAIL your way to SUCCESS.
We've all come up with that million dollar idea. But what do we do with them?
We know it'll work.
Why don't we pursue it further? What's the reason why we don't create the life we've dreamed of?
I've been guilty of it. I mean there's a reason why my family calls me the idea man. It's like anything, the more effort you put behind something, the more we get. Yes thinking about it is essential, however action makes all the difference. You need to lay out what you'll do, how you'll do it and why there's a need for it. It will all come together.
Yes, sometimes all we need is a…simple plan.
Back to it, you need to have faith in your idea. More importantly, we CANNOT be afraid to fail.
In the words of Michael Jordan: "To learn to succeed, you must first learn to fail."
When we come up with something, it doesn't matter what it is, you need to JUST DO IT (see what I did there).
I can speak from experience, I mean this blog is the epitome of an idea. It has ultimately come together and I'm so happy I put action behind it. Initially I was fearful on how people would receive it. But then it hit me…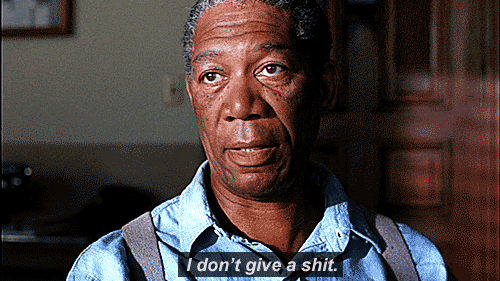 Never stop because of what you THINK people will say.
Yes, another quote, but hold on to your saddle; this one's relevant.
Action leads to satisfaction, honestly, just try something new. Growth comes from taking chances.
Well, don't go to crazy. Actually, do it. Why not? There's no reason not too. Don't be afraid to break the rules, laws not so much, but rules are meant to be broken!
Mr.Black (Schneebly) has a very good point. Thanks Ned.
I wouldn't be where I am if i hadn't broken a few (lot) of rules along the way.
As Steve Jobs once said: "The people who are crazy enough to think they can change the world are the ones who do."
There are rules to success though. Arnold Schwarzenegger has SIX rules to success. 
This video is ultimately what inspired me to follow my passion and try something new. I queued it up to the best part. Watch this: 
So let's review.
Trust Yourself
Break The Rules
Don't Be Afraid To Fail
Don't Listen To The Naysayers
Work Your Butt Off
Give Back
Here is a link to the text version of his rules and why… 6 Rules of Success.
To conclude.
Take a chance. Make that idea happen. Go for it!
Never let up, never give up, NEVER settle!
You have the ability to do great things. All greatness starts as an IDEA.
If you got one, PURSUE IT!
A pleasure as always. Thanks for stopping by.